OVERVIEW
Health outcomes research collects and evaluates data on the clinical, economic, quality of life, and patient satisfaction outcomes of healthcare products, procedures, services, and programs in order to estimate their value.
With rising healthcare costs, the need to improve the efficiency of healthcare systems is growing. Population-based decision makers, including policymakers, health insurance companies, self-funded employers, and government health programs, can use outcomes research to make more prudent decisions about spending on healthcare. Innovative healthcare companies can use outcomes research to help gain proper reimbursement and access for their products. Increasingly, policies are encouraging the use of outcomes research to control healthcare costs.
At Agile Outcomes Research, our goal is to partner with you to help demonstrate the value of your healthcare innovation. Let our experience in strategic planning, data analysis, and scientific communications help you reach your audience. High-quality scientific data that is meaningful to the audience can greatly improve reimbursement and access.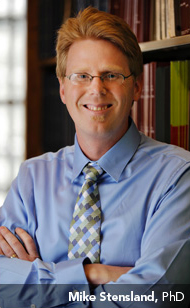 Prior to founding Agile Outcome Research, Dr. Stensland was a Senior Research Scientist for Eli Lilly and Company where his focus was on outcomes research for neuroscience drugs. With a PhD in Clinical Psychology he has an appreciation for the day-to-day struggles faced by patients with mental illness. His clinical training helps guide his research as it provides an understanding of the clinical implications of different types of increased resource use. Over the past several years, Dr. Stensland has also developed an expertise in health outcomes research in Chronic Obstructive Pulmonary Disease (COPD). Dr. Stensland has trained other researchers in utilizing health outcomes methodologies.
Dr. Stensland has a demonstrated ability to complete outcomes research projects from conceptualization to publication. He has a natural penchant for applied statistical methods and an additional specialization in Applied Quantitative Psychology. He has experience utilizing different statistical packages including SAS, SPSS, and R to fit the advanced models used in outcomes research. He has worked with data from randomized controlled trials, prospective observational studies, multiple leading administrative claims databases, and governmental databases.